I paid half a million dollars for her body but she refused to give me her heart...

She told me she would never love me because of the sinfully wrong things I swore I would do to her, so I made the biggest mistake of my life and let her go.

It isn't until three years later when another man comes into the picture that I feel the need to step in, after all my sweet little angel's virginity is still mine and I'll do whatever the hell I need to, too show her that. I may have let her go once, but this time I'm taking what's rightfully mine.

Her heart, her body, and her soul.

-This is a DARK romance, heed the warning. If you don't like alpha's, the mafia, explicit sex, or swearing then you probably shouldn't even consider reading this book. Can be read as a standalone, or in conjuction with the first two books in the series.-

**Contains a bonus chapter for my next release Their Spoiled Brat.**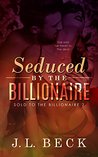 Seduced by The Billionaire
by
J.L. Beck
My rating:
3 of 5 stars
Title:
Taken By The Billionaire
Author:
JL Beck
Never have i written a review with the intent of destroying an author or their books. I know just how hard they work in creating a story that will thrill you and take you away from the responsibilities of 'real' life. But that's exactly what i hope to find when i start reading a book, and when i follow a series, i go in without too much expectations other than the ones that were created from the author. So when i made the decision to read JL Beck's Sold To The Billionaire series (and of course, i've really enjoyed many of the books i've read by JL Beck by then), the first book had sold me. the story of two brothers who are complete butt-holes, made that way by the circumstances of their upbringing of their father after the death of their mother. Each brother is haunted and damaged, but when they each 'buy' their own virgins, the girls change them in some sort of way. Fox learned to trust again and believe in love with Raven, while his brother, Seth, found some sort of light with the help of Taylor, the woman he calls 'Angel'. Seth is dark, the kind of man who likes pain with his pleasure, who wants and needs submission by any means necessary. I like this series, i really do, the premise of it and the storyline that JL Beck set up for her readers, is captivating
So why did i only rate it a 3 star? By stating what i did and didn't like about it might help clear that up:
What I didn't like
* Seth is nowhere NEAR as dark in this book as we were set up to see him as such from the previous books, even if did get some professional help
* For some reason, a man named Antonio Gonzaloes doesn't sound like a Russian Mafia member/king, drug cartel, now that, i have no problem believing
* How can a man not realize that a woman isn't a virgin, even if he's never had one before, while he's with her?
* Throughout the entire novella, we're being hinted at Taylor being incredibly dark (or her sexual preferences are), and yet not once are we privy to what that is
* i found it way too hard that Seth could change that much in such a short time
* For a private investigator that was able to find Taylor when she was VERY well hidden, he was sure stupid enough to openly ask (in the Russian Mafia's casino no less) about Antonio Gonzaloes
What I did like
* We're given a very good look at what Seth went through to find Taylor
* JL Beck has an amazing idea on where she wants to go with her story... i just wish i knew where the next instalment was going to take us
* The chemistry between Seth and Taylor is still as strong as what we saw in the second instalment of the series
* I highly doubt i could have guessed the link between the characters, never in my wildest dreams
* Seth's change absolutely redeemed his piss poor attitude and personality from the previous books in the series.
I truly wished that i could have loved this book, but for some reason, there was just so much that just fell flat for me, some things that just didn't seem to ring true for me. HOWEVER, that doesn't mean that it might not appeal to others, maybe it will, it just didn't resonate for me. But i will, albeit my misgivings, be reading the next instalment in the series because i really, really need to find out what's going to happen to Taylor and Seth, and their current predicament.
View all my reviews